Blog
STAND UP! RECORDS ALBUM DETAILS UNLEASHED!
FOR IMMEDIATE RELEASE: JT Habersaat and the Altercation Punk Comedy Tour release details for Stand Up! Records recording of Hostile Corporate Takeover.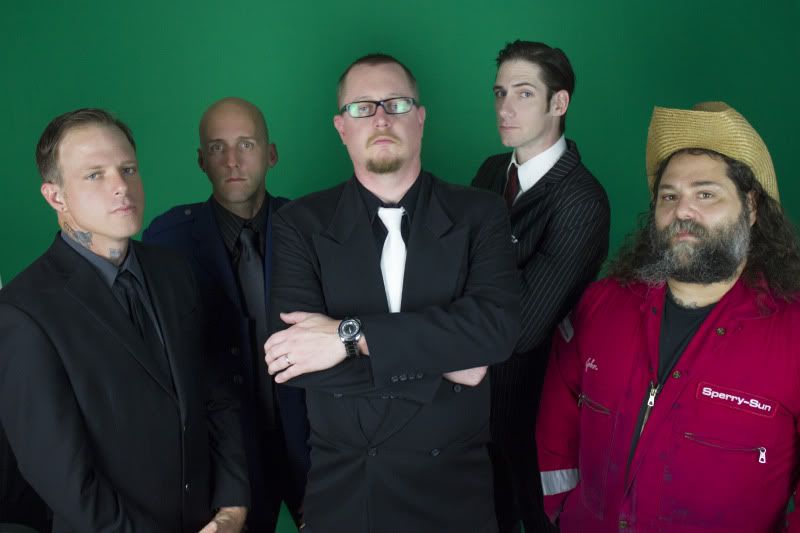 Photo credit: Camille DuBose (left to right: Mack Lindsay, Joe Staats, JT Habersaat, Mike Wiebe, Billy Milano)
Austin, Texas – Having recently announced their signing to powerhouse imprint Stand Up! Records, JT Habersaat and his critically-hailed Altercation Punk Comedy Tour have confirmed details on their upcoming live recording.

The new album, dubbed Hostile Corporate Takeover, will be recorded live in Austin, Texas on August 11th, 2012 at the New Movement Theater. The confirmed lineup, headlined by Habersaat, will include Mack Lindsay (Vans Warped Tour), Mike Wiebe (vocalist for Riverboat Gamblers), Joe Staats (Fun Fun Fun Fest) and legendary hardcore vocalist Billy Milano (MOD). The show will take place at 10:30 pm for $10, with tickets available at the door on a first come, first served basis.

"I'm beyond thrilled to work with Dan Schlissel and Stand Up! Records, and have long been an admirer of the label's roster," says Habersaat. "Dan and I are exceptionally stoked on the level of talent that will be joining me for the live recording. These are some of my all-time favorite comics and closest friends."

Habersaat, who initiated the Altercation Punk Comedy Tour in 2008, has become a go-to support act for a wide-range of boundary-pushing comics and bands, including Doug Stanhope, Henry Rollins, Brian Posehn, Andy Dick and Jeanine Garofalo. The Altercation Tour has appeared on numerous national festivals including Fun Fun Fun Fest 2008-2011, The Fest 9 and Vans Warped Tour, and Habersaat recently co-headlined the comedy portion of Las Vegas' Punk Rock Bowling Festival 2012 opposite Rancid, Nofx and more.

Stand Up! Records was founded by Dan Schlissel in 1999 in Minneapolis, MN and has gone on to release albums from some of the comedy scene's brightest stars including David Cross, Maria Bamford, Doug Stanhope, Patton Oswalt, Marc Maron, Lewis Black and Hannibal Buress.

"I'm happy to have a motivated self-starter like JT be involved in our hostile corporate takeover," says Schlissel. "Stand Up! Records started as a DIY label in a basement, out of the ashes of the music world, so not only do we get JT and the Altercation Comedy Tour, but we are also happy to work with peers who have the same independent roots."

"It helps that they're funny fuckers as well," Schlissel added.

The New Movement Theater, curated by improv master Chris Trew, has become a comedy institution in the city of Austin. It is located between 7th and Lavaca Street, and doors for the 18+ event open at 10:15 pm.