Blog
Chronicle Cover
I'm on the cover of the Austin Chronicle this week. It's kind of a big deal and I'm thankful to all involved. Here it is, please don't sue me.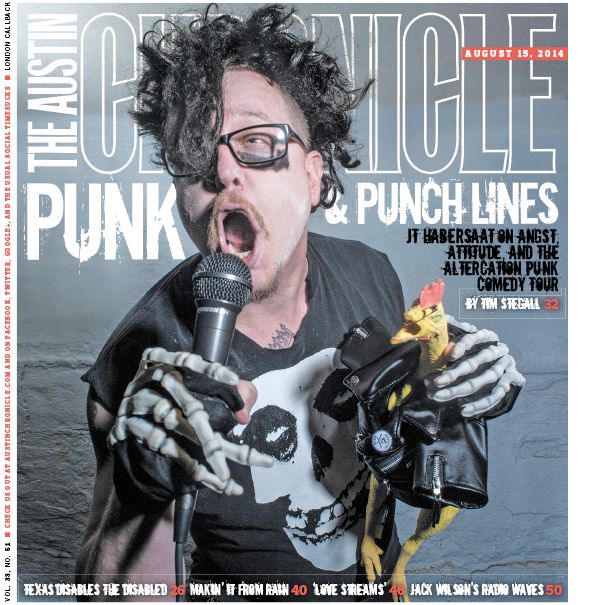 More importantly, I'm going on 7K miles worth of road dates this fall. Junior Stopka, Jay Whitecotton, Joe Staats and some of my other favorite people are joining me. The whole stretch is being presented by the rad folks at Doug Stanhope's Celebrity Death Pool, New Noise Magazine and Stand Up! Records. Please support them all. More shows in the works for 2015 now also. And thanks to everyone who has been checking out www.TheRoadPodcast.com so far. I'm having a blast with it. Hope to see you all on the road this fall. Below are all the dates. - JT
Trim the Fate Dates (w/ Whitecotton, Staats, more):
Mon. Oct. 6: Austin, TX: Spiderhouse Ballroom
Tues. Oct. 7: New Orleans, LA: Howlin' Wolf
Weds. Oct. 8: Baton Rouge, LA: The Station
Thu. Oct. 9: Gulfport, MS: Irish Coast Pub
Fri Oct. 10: Pensacola, FL: Big Easy Tavern
Sat. Oct 11: Mobile, AL : Alchemy Tavern
Sun. Oct 12: Gainesville, FL: Boca Fiesta
Mon. Oct. 13: Valdosta, GA: Ashley Street Station
Tue Oct. 14: Raleigh, NC: The Maywood
Weds Oct. 15: Richmond, VA: Strange Matter
Thu Oct. 16: Arlington, VA: Drafthouse Cinema
Fri Oct 17: Baltimore, MD: The Sidebar
Sat Oct 18: Trenton, NJ : Mill Hill Basement
Sun Oct 19: Brooklyn, NY: Don Pedro's
Mon. Oct 20: New Haven, CT: Café 9
Tue. Oct 21: Boston, MA : TT the Bear's
Weds. Oct 22: Manchester, NH: The Shaskeen
Thu. Oct 23: Derry, NH: Halligan Tavern
Fri. Oct 24: Albany, NY: The Low Beat
Sat. Oct. 25: Kingston NY: Snapper Magee's
Sir Tour's A Lot Dates (w/ Stopka, Whitecotton)
Sun: Oct. 26: Buffalo, NY: Righteous Babe's 9th Ward
Mon. Oct. 27: Erie PA: Basement Transmissions
Tue. Oct. 28: Cleveland, OH: Reddstone
Weds. Oct. 29: South Bend, IN: The Drop Comedy Club
Thu Oct. 30: Chicago, IL: Reggie's
Fri Oct. 31: Chicago, IL: The WIP Theater
Sat. Nov. 1: Louisville, KY: 3rd Street Dive
Sun Nov. 2: Nashville, TN: Spiffy Squirrel Comedy @ East Room
Mon. Nov. 3: Memphis, TN: The Hi-Tone
Tue. Nov. 4: Hot Springs, Ar: Low Key Arts
Weds. Nov. 5: Bryan, TX: Revolution Bar
Sat. Nov. 8: Austin, TX: Fun Fun Fun Fest 2014 - 1:30 pm Yellow Stage
Trim the Fat Dates (w/ Wiebe + more)
Fri. Nov. 14: Lafayette, LA: Sidebar
Sat. Nov. 15: New Orleans, LA: Hell Yes! Fest - Headlining Sat. Night
Sun. Nov. 16: Lafayette, LA: JP's
Fri. Nov. 21: San Marcos, TX: Back Alley Comedy Lounge
Sat. Nov. 22: Webster, TX: Union Tavern
Sat. Dec. 6: Houston, TX: Altercation Ruins Xmas @ TBA
Fri. Dec. 12: San Antonio, TX: Altercation Ruins Xmas @ Blind Tiger
Sat. Dec. 13: Austin, TX: Altercation Ruins Xmas @ Holy Mountain
2015 - Venues TBA soon. Habersaat, Stopka and more on all spring 2015 shows.
Bisbee, AZ: Jan. 30, 2015
Tucson, AZ: Feb. 3
Phoenix, AZ: Feb. 4
San Diego, CA: Feb. 5
Los Angeles, CA: Feb. 6
Los Angeles, CA: Feb. 7
Las Vegas, NV: Feb. 8
Flagstaff, AZ: Feb. 9
Albuquerque, NM: Feb. 10
Santa Fe, NM: Feb. 11
Amarillo, TX: Feb. 12
Oklahoma City, OK: Feb. 13
Dallas, TX: Feb. 14
Austin, TX: Feb. 15 (JT Bday show!)
Promo Video: